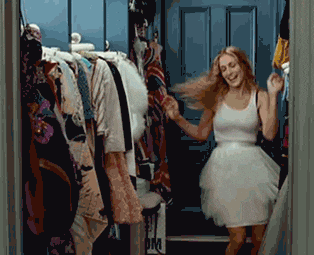 I am so glad that groundhog's forecast was for an early spring! My wardrobe needs a breath of fresh air and sunshine, and that's what this season's style has in store. I'm ready to break out my culottes, expose a little bare shoulder and tuck my coats and boots away. If you can't tell, I've got spring fever–and here are a few seasonal tips and trends (as seen on Talk of Alabama this morning) to keep in mind:
Pantone, the company which selects an annual signature color, has chosen two for 2016: ROSE QUARTZ and SERENITY. So expect to see blush pinks and baby blues in everything from home décor to clothing and accessories for the whole family. Pastels are pretty much expected for Spring, and that will continue.
Wearing WHITE head-to-toe is white haute this spring.Yes, you totally CAN wear it Memorial Day and after Labor Day. Let's put this argument away for good, shall we?  Just make sure the fabric is appropriate to the season, and that the shade of white compliments your complexion.
PATTERNS are a great way to add visual interest. Some will say "FLORALS for Spring? Groundbreaking!" but they are a seasonal staple. You can try something delicate like a daisy print, something more abstract and graphic, or even something a little more dark and edgy. But other options include STRIPES and GINGHAM. If you're worried about fit or "doing too much," try a top, sandals or purse in the print, against a more neutral outfit. Gentlemen, try a gingham tie or dress shirt would work. Ladies, try a striped cami or gingham-print shoe. The more adventurous shopper will try wearing patterns from head to toe.
This season is all about the chunky heel, the flat mule, sandal and slip on shoe, all of which are super easy on the feet. But what keeps it interesting are again, color, pattern and texture. Do us all a favor and be sure to get a pedicure…you can add a pop of seasonal color to your tips and toes!
Little DETAILS can make or complete a look this spring. There areso many to choose from: a romantic touch of lace or delicate ruffles, a long necklace that adds a touch of sparkle, textures such as tweed and laser-cut patterns. These extra little touches add a bit more oomph or edge to an otherwise run-of-the-mill outfit.
Happy shopping!
Image via Giphy.com